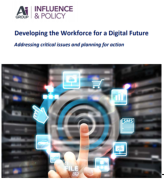 AiGroup have published their 'Influence & Policy Paper' that highlights the impact of digital transformation on the global economy and education trends.
Workers will need different skills, not just more skills
The workforce needs to be prepared for life-long learning, both through workplace training and other forms of education.
As the labour force and economy evolve, people must be able to continuously undertake training and development activities to enable further innovation.
The VET sector provides some coverage of digital skills but needs more focus on higher order skills.
Download the full report Here